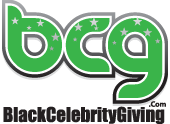 Atlanta has been lauded as a spot where celebrities come to live and play. BlackCelebrityGiving.Com is frontier in providing news, videos and photos of celebrity philanthropy, nonprofit organizations and causes that directly correlate with the black community. On Thursday, June 27th, BlackCelebrityGiving will be hosting a private reception recognizing foundations that have gone above and beyond in actively making a difference. This year's awards will feature BlackCelebrityGiving.com's 2013 Ambassador,

Toya Wright

.
The event will take place at Vanquish Lounge from 7 - 9:30 pm. Vanquish Lounge is located at 1029 Peachtree Street, Atlanta, GA 30309.
Foundations being honored and recognized include: Big Boi's Big Kidz Foundation, Families First, Terri Vaughn's Take Wings Foundation, The Enchanted Closet, Ceelo Green's Greenhouse Foundation

and the

Urban League of Greater Atlanta Young Professionals

.
If you are walking the walk of being the change you want to see, come out to take part in transforming our black community to make it better than you found it. Complimentary RSVP at http://givingisgoodawards.eventbrite.com.