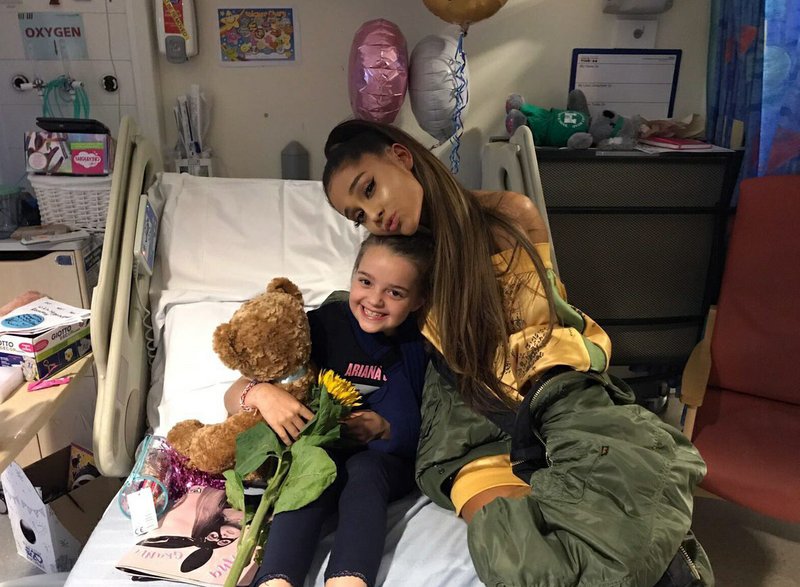 Images by the Manchester Evening News, victim of the Manchester concert blast Lily Harrison hugs singer Ariana Grande during her visit to the Royal Manchester Children's Hospital, in Manchester, England. Grande surprised young fans injured in the Manchester Arena attack, hugging the thrilled little girls in their hospital beds as they recovered from injuries sustained in the May 22 suicide bombing.
Ariana Grande will return to the stage today in Manchester, England, for a concert to raise money for victims of a suicide bombing that struck at the end of her last show nearly two weeks ago.
Grande's "One Love Manchester" concert, to be held at the city's Old Trafford cricket ground, comes the day after attackers targeted the heart of London, killing seven people. Authorities have said the attack started with a van plowing into pedestrians and then involved three men using large knives to attack people in bars and restaurants at a nearby market.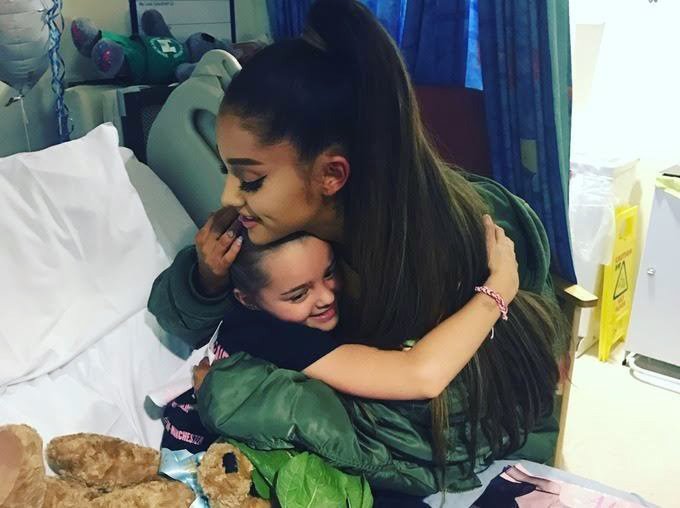 Grande's manager Scooter Braun said that the concert will go on as planned. He called the event a "statement that hatred and fear will never win."
"Today's One Love Manchester benefit concert will not only continue, but will do so with greater purpose," Braun said in a statement. "We must not be afraid and in tribute to all those affected here and around the world, we will bring our voices together and sing loudly."
A star-studded lineup including Justin Bieber, Coldplay, Katy Perry, Miley Cyrus, Marcus Mumford and Take That is scheduled to perform. The show will be broadcast across the globe and proceeds will go to an emergency fund set up by the city of Manchester and the British Red Cross.
The May 22 attack at Grande's Manchester concert killed 22 and wounded dozens more. The pop singer visited young fans injured in the attack at the Royal Manchester Children's Hospital on Friday.
"We will not quit or operate in fear. We won't let this divide us. We won't let hate win," Grande wrote in a statement when she announced the benefit concert last week. "Our response to this violence must be to come closer together, to help each other, to love more, to sing louder and to live more kindly and generously than we did before."
Other performers will include Pharrell Williams, Usher, the Black Eyed Peas, Robbie Williams and Niall Horan.
The concert will be broadcast on a variety of outlets. Disney's young adult cable network Freeform will air the full concert live at 2 p.m. EDT on Sunday. ABC plans a one-hour highlight special following its NBA Finals telecast.
The concert also will be broadcast on more than 130 iHeartRadio stations, and MTV will livestream the event on the website www.onelovemanchester.mtv.com.