IT'S A CELEBration! STARS PARTY AT "THE MUSEUM OF MISSY ELLIOTT" WITH THE MICHAEL JACKSON VIDEO VANGUARD AWARD RECIPIENT
Superstar recipient of this year's Michael Jackson Video Vanguard Award, Missy Elliott, may have set the VMA's and social media on fire with her show-stopping performance this week, but the post-show celebration in her honor was nothing short of spectacular.
Elliott's manager, Mona Scott-Young, along with nightlife entrepreneur Unik Ernest curated the star-studded event which hosted an impressive list of guests: Queen Latifah, Cardi B, Lizzo, Lil' Kim, Oscar winner Regina King, tennis star Novak Djokovic, Victoria's Secret model Adriana Lima, Ashlyn Harris and Ali Krieger (world champion US Women's soccer team), Ice-T and Coco, Blac Chyna, Lil' Mama, Dave East, Victor Cruz, Naturi Naughton, Winnie Harlow and Myx Fusions CEO Peter Reaske were among the elite who came out to celebrate with Elliott. Celebrity DJ Mary Mac 5 Star kept the energy high as guests partied into the wee hours.
"We wanted to celebrate Missy, and honor her success and contributions to the culture, so where better to do that than a place inspired by her genius and creativity," says Scott-Young. "Words can't express how proud I am of Missy. She is an icon and truly deserves to be celebrated."
The event was held at "The Museum of Missy Elliott," an interactive pop-up playground that allowed guests to engage in the most memorable and iconic moments from Elliott's music videos. The concept boasted a live hologram experience where guests could record a gif of themselves performing to Elliott's hit classic "The Rain," while virtually wearing her signature inflated trash bag. The immersive activation was powered by VNTANA.
Elliott's latest project, Iconology, is available now on all streaming platforms.
Photos by Shareif Ziyadat and Michelle Lawton.
Cardi B, who presented Missy Elliott with her VMA award earlier that night, attended.
Top Model Winnie Harlow was also there to congratulate the superstar in person.
Stars clamored for a pic with the woman of the hour (l-r): Queen Latifah, Pepa, Missy, and Cardi B.
Mona Scott-Young and Cardi B (left); Missy Elliott and Queen Latifah (right)
Boss ladies Queen Latifah and Mona Scott-Young (left); Blac Chyna looked fab! (right)
So many queens were in the building: Mona Scott-Young with Regina King and Naturi Naughton (left) and Adriana Lima (right).
Mona Scott-Young and Unik Ernest (left); Adriana Lima (center); Peter Reaske and Mona (right)
Regina King and Naturi Naughton (left); Coco and Ice-T with Unik Ernest (right)
Lizzo looked fly while sipping Bartenura Wine.
Dave East (left); Treach (center); Lil Mama (right)
Queen Latifah having a little photo-bomb fun with Hollywood Unlocked's Jason Lee and Missy (left); Hot girls Regina King, Naturi Naughton, Cardi B and Star Brim (right)
Victor Cruz came through (left); DJ Mary Mac 5 Star was on fire! (right)
A quick pre-event set-up shot of the bar.
There was plenty of Myx Fusions Moscato that night.
Myx Fusions CEO Peter Reaske enjoyed a Myx moment with Coco and Ice-T.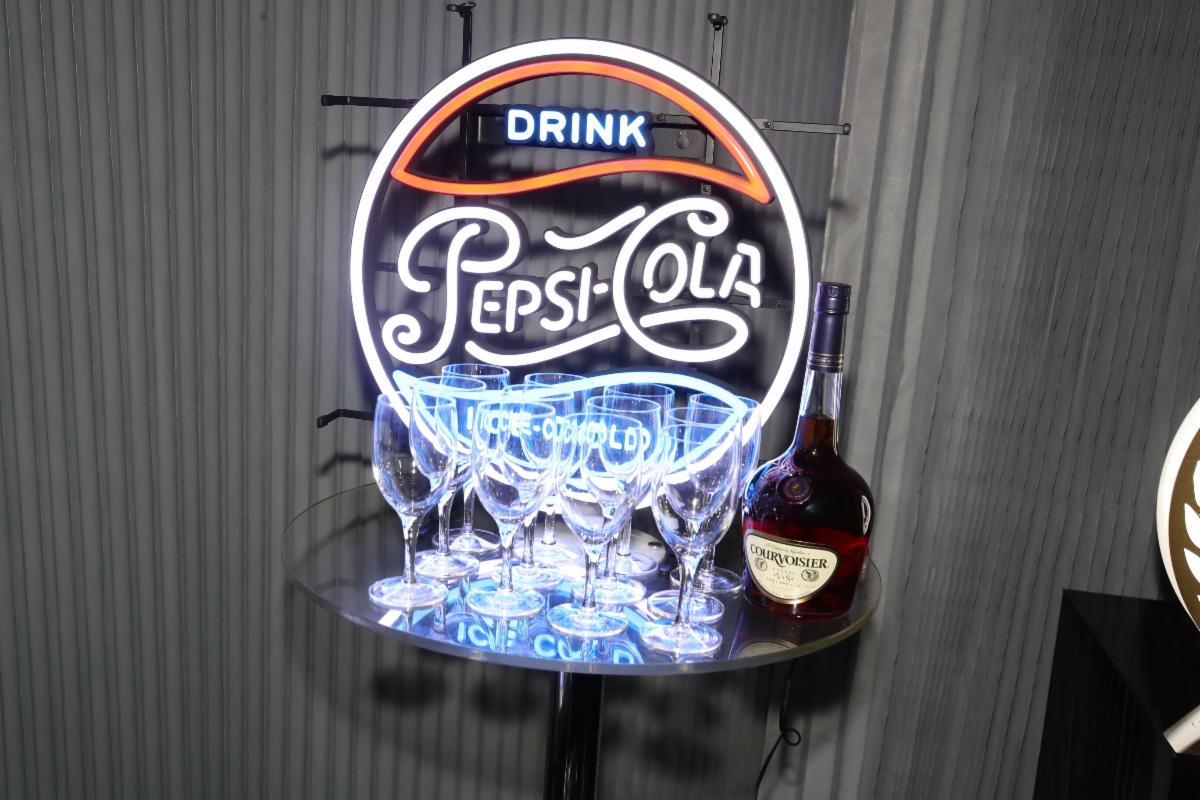 Pepsi was a proud sponsor of the event (left); Mona Scott-Young sports a fly pair of sunglasses, courtesy of Quay (right).
Guests enjoyed cocktails by Courvoisier and
Cîroc.
Bartenura Wine on ice is always a treat (left); Mona Scott-Young ended the night with a cold, refreshing Pepsi (right).